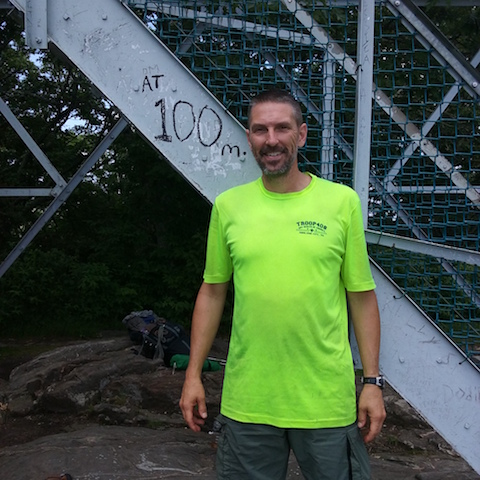 "This is crazy," I said glancing over my shoulder toward my two hiking companions. One was only six horizontal feet behind me, yet his head was well below my ankles. The same was true for the man behind him.
We were scaling the south side of Albert Mountain, climbing from one four-foot rock to the next. Each separated by dirt and gnarled roots, long exposed by rainwater as it made its way down the steep incline. The final 1/3-mile of the approach climbs over 400 feet of elevation. I couldn't imagine making this ascent in the rain.
I looked up toward a clear, cobalt blue sky. Wisps of clouds high in the atmosphere offered little cover from the sun. It was almost lunchtime and the heat of the mid-day sun pounded us with each step we took. I couldn't tell how many more rocks lay between us and the top of Albert. The steep, 70-degree climb made seeing the summit impossible. Hopefully we were close to the 5,250 ft peak where a fire tower stood, offering a view of the Nantahala Mountains and the Little Tennessee River valley.
In addition to a respite from the climb, the summit of Albert represented another, more compelling. draw for me, the 100-mile mark for Northbound Appalachian Trail hikers (NoBos). For me, the summit of Albert was the fourth mini-goal of this journey.
Before starting on Springer Mountain, Georgia, I had divided my journey into a series of smaller, more manageable chunks. My first goal was to make it 30 miles to the Mountain Crossings Outfitters on US-19. That would represent three days of hiking and would provide the critical feedback I'd need about my gear and my conditioning. It would also equal the longest trip I'd ever hiked.
My second milestone was Dicks Creek Gap on US-76, where I would meet a couple of hiking buddies who would join me for the following five days. Dicks Creek Gap is 69 miles into the AT.
Crossing into North Carolina from Georgia was my third goal for the journey. Reaching the state line would mean that I had completed one of the 14 states that the AT traverses. One down and thirteen to go, eventually.
Now, I was on the cusp of my fourth goal, Albert Mountain. The fire tower sits 100 miles into the Appalachian Trail. Reaching the top meant that I would reach triple digits. Although it's only one mile more than 99, for me it was much more than that. It meant that I had made serious progress on my march toward eventually completing the length of the AT.
We reached the top and I was tired and hungry and thirsty and ready for a rest. Despite my physical condition, I inwardly rejoiced in the milestone. 100 miles. I sat eating lunch, content in my accomplishment.
Thirty-seven miles lay between me and my final goal for this outing, Nantahala, NC. Thirty-seven miles of ups and downs, of rain and sun, of wondering where my next source of water would be found. But, I knew I would reach it. I knew that I would build upon these mini-successes and reach my fifth goal of this 137-mile trek.
I also know that I will one day, Lord willing, I will summit Mt. Katahdin in Maine, the northern terminus of the AT, some 2,190 miles from Springer Mountain, Georgia. Success comes to those who persevere through the difficulties and celebrate the mini-milestones along the way.
AT Lesson #12: Small Victories Lead to Bigger Ones
Like all worthwhile endeavors, long distance hiking takes time and effort. Too often we set ourselves up for failure by turning an ambitious goal into a boolean proposition, either we make it or we don't. Either we accomplish what we've set out to achieve or we fall short and fail. That's unfortunate and often encourages people to give up in the early stages when the going gets tough. A finish line that is too far off, dissuades people from even trying. It seems unassailable and insurmountable.
Dividing large and distant goals into more manageable pieces, allows us to easily see the next milestone and know that it's within our reach. We have reason to celebrate the mini-successes that come regularly and our spirits are buoyed by the accomplishments. Success begets success. We build confidence. We increase our knowledge, learning as we rise to meet each new goal.
Look for ways to recognize and celebrate the smaller successes in business and in life. Structure them so that they support a longer term strategic goal. Develop and taste for success and allow it to drive you toward bigger and better things.